Contact Mike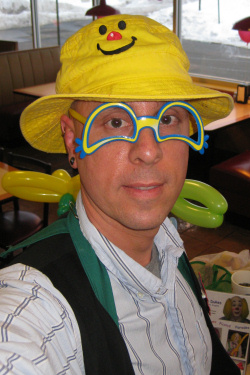 Make your next event special with Balloons By Mike. Mike provides entertainment for kids of all ages in Northern Virginia.
I would love to hear from you. Balloons By Mike is available on for birthday parties, charity events, grand openings, picnics, festivals, and other places where kids would enjoy getting balloons. Mike is available for events in Loudoun, Fairfax, Prince William, and Arlington Counties in Northern Virginia. There may be an extra travel fee for events in Washington, DC, Maryland, or other parts of Virginia. Mike is mainly available on weekends but may be able to help with events during the work week.
Don't wait until the last minute, book your entertainment early for best availability.
Balloons By Mike and Sir Toony Van Dukes
c/o Mike Becvar
25460 Upper Clubhouse Drive
South Riding, VA 20152
Mike@BalloonsByMike.com
703-627-5527

For best responses, send Mike an email at Mike@BalloonsByMike.com with details about your upcoming event before calling.


Your name
Phone number
Best time to call back
Date of event
Time of event
Type of event (party, picnic, festival, etc.)
Location of event
How many kids do you expect?
Age range of kids at event
Description of what you are looking for
Do you want Mike to come as Sir Toony Van Dukes the Clown or himself?
Special Requests?
Visit Face Painting By Mike for more information and pictures of Mike's face painting designs.
Visit Sir Toony Van Dukes for more information and pictures of Sir Toony.